Chassis Straightening
Modern passenger vehicles are built and designed for smooth handling and reliable performance when out on the road.
However, in the unfortunate event that your vehicle is involved in an accident, the chassis will move out of alignment and even if out by only a couple of millimeters, the steering and safety of your vehicle will be compromised.
At Custom Body Repairs, our skilled team of mechanics use the latest in chassis alignment technology and will return your vehicle's chassis to its pre-accident condition.
If your vehicle has been involved in a collision, please call us and speak to one of our friendly team members today.
Contact us today!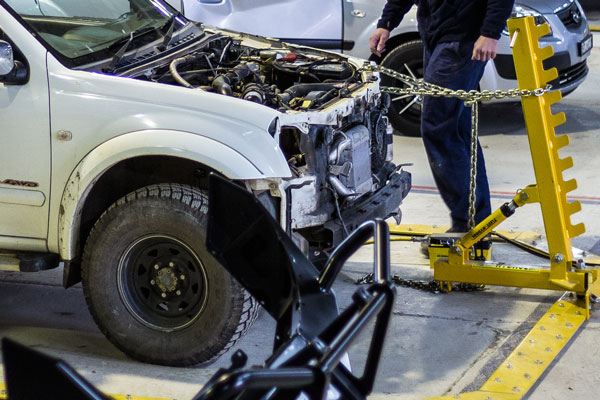 Spray Painting
Custom Body Repairs will bring your vehicle back to it's original new car condition, with our state-of-the-art spray painting capabilities.
This includes vehicle colour matching using diagnostic paint scan technology and the applying of paint which is delivered with a high-quality and even finish.
For an efficient spray painting service with a show-room finish, please call our office to make a booking today.
Contact us today!
Paintless Dent Repair
Custom Body Repairs are your number one destination for paintless dent repairs and panel restoration.
We are the experts at removing scratches and small dents in your vehicle's paintwork and will return your vehicle to its original manufacturer's condition.
This is achieved though using highly-advanced and modern paintless dent removal technologies, which removes minor dents and scratches on your vehicle.
For more information or to make an insurance booking, please contact our helpful team today.
Contact us today!
Detailing
At Custom Body Repairs, we are proud to offer customers a comprehensive vehicle detailing service.
This will ensure that after repairs have been made to your vehicle, you will be able to drive out of our workshop with your car looking brand new and in an immaculate condition.
Custom Body Repairs takes great pride in all detailing work carried out and our team have a passion for the work we do. For more information or to book your vehicle in for custom detailing, please contact us today.
Contact us today!
Diagnostics
Before your vehicle leaves our fully equipped workshop, we run a comprehensive examination of your vehicle with our highly sophisticated diagnostic scan tools.
This service ensures there is no faults in the auto electrical system and that you will enjoy trouble free motoring when back out on the road.
Contact us today!